The Thread is open from dawn to dusk. The trail is closed at night.
The Thread is open to all non-motorized users. (Motorized wheelchairs and pedal-assisted e-bikes are permitted).
Reminder: Reckless use of a bicycle or skates which endangers other trail users is prohibited.

Leashes required!
All pets must be on a short leash (under 6 feet) and under the owner's control.
Owners are responsible for cleaning up after their pets.
No horses are allowed on The Thread. (Yep, you read right!)
Trail users must refrain from entering posted private property.
Alcoholic beverages, drugs, and unlicensed firearms are not allowed on the trail.
Vandalism and theft of trail amenities will result in prosecution.
As a courtesy to other trail users, please refrain from tobacco use along the trail.
Stick to the right side of the yellow-dashed line, just like you would when driving.
When passing, try not to startle anyone and make your presence known beforehand with an announcement ("on your left")
Obey traffic signs and signals at all crossings.
Move to the side of The Thread if you need to stop.
If you see litter, please pick it up and dispose of it. It is SO appreciated by others using The Thread, but especially by our maintenance crew. With the help of those in our community, we can keep The Thread green and clean.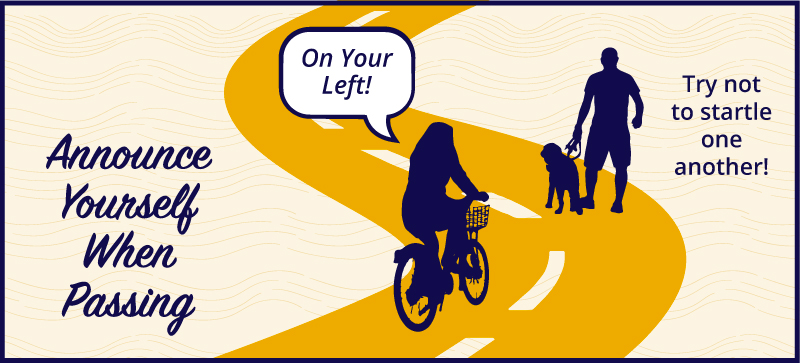 Above all, we ask you to be courteous of everyone utilizing The Thread. Respect one another, the land and relish in the time outdoors.