The Thread is a network of multi-use trails and greenways designed to be a sustainable and pedestrian-friendly connector between the city's neighborhoods, public parks, schools and commercial businesses. Weaving through LaGrange, Georgia and void of motorized vehicles, residents and visitors enjoy the outdoors while taking advantage of The Thread's convenience and amenities.
Promoting overall health and wellness in the community, The Thread is a socially-equitable transportation system, enhancing LaGrange's environment and economic vitality. The first 13 miles of the 29-mile proposed system are scheduled for completion in 2022. Upon full completion, The Thread is projected to provide over 30 miles of interconnected greenways, side paths and pocket parks traversing the city.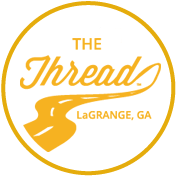 Promote a return to more pedestrian-friendly times, when friends, family members, co-workers and strangers crossed paths in the open-air.

Provide a mode of transportation that alleviates transportation impacts on non-driving employees who commute to work without a motorized vehicle.

Stimulate adjacent property values in LaGrange and Troup County's housing markets.

Increase the city's appeal with a younger demographic to aid in the city's future job and commercial markets.

Give LaGrange a competitive edge over sister cities for decades to come.