Our team who ensures The Thread is world class
In support of The Thread, Friends of The Thread (FOTT) formed as a nonprofit organization in 2016 to thrust the plan into action, overseeing project efforts and maintaining what makes The Thread so wonderful, day in and day out.
In partnership with the City of LaGrange and county leaders, FOTT procures assets that enable the success of the project, managing acquisition and development of added trails with pocket parks and advocates for The Thread via public initiatives and in various capacities.
FOTT is an ally of LaGrange and its residents, empowering each individual to connect within the community and to pursue healthier ways of living.
Friends Of The Thread is a 501(c)3 tax-exempt organization.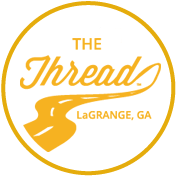 Latest Social Posts From The Thread
Share your adventure with us!
Be informed about updates  regarding The Thread trail system by subscribing to our newsletter. Use the button below to get started!